Does Love at First Sight Exist?
After watching Clare Crawley find love on this season of The Bachelorette, I was left with one controversial question: Does love at first sight exist?
Truth be told, there's no simple answer to this question. But, as Clare watched Dale Moss step out of the limo, she knew immediately that she had met her husband. In fact, she was so sure, that she ended the season early and got engaged after, what would it be…a week? Not sure what the timeline was, but needless to say it took hardly any time for her to drop her role as the Bachelorette and settle into an engagement with Dale. An entirely unprecedented event in the world of The Bachelor.
I guess, when you know—you know, right?
Or does she really know?
Only time will tell, but I'm sure rooting for their love story! But did Clare really fall in love with Dale at first sight? Or did she already have this idea of him in her mind, before they met? She openly admitted to stalking his Instagram prior to filming. She clearly already had a feeling about him. When they met, it was like electricity and Clare famously declares she thinks she just met her husband.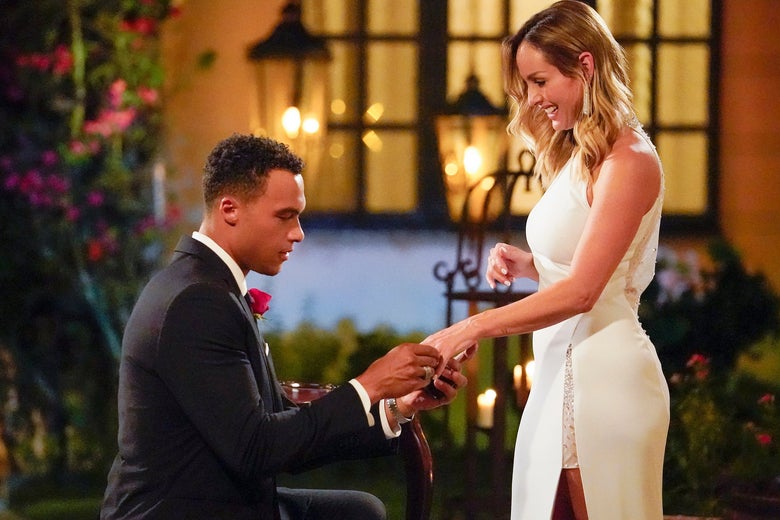 It's hard to say whether it was really love. Maybe it was more like infatuation at first sight…then a slow build to falling in love. Maybe she just felt the connection, and knew, but could she really say she loved him the moment they met? Can you love someone you don't really know?
It's hard to say for sure. Not to discredit Clare and Dale's love story, but there may be more going on behind the scenes. Did they really fall in love at first sight? Or did they simply fall into infatuation at first sight, and the rest will come later?
Or maybe it's true—when you know, you know—
and they just knew.
Is it crazy to jump off a cliff like that, getting engaged after such a short time? Or is it brave to trust your gut in that situation? It's probably both.
Anyway, I'm excited to see how it all turns out for them! And can't wait to see how the season continues with Tayshia as the new Bachelorette!
So maybe love at first sight exists, or maybe it doesn't, but all I can say for sure is that when Clare met Dale, she knew that he was somebody she could potentially spend the rest of her life with. And that thought alone is enough to suggest that maybe, just maybe, love at first sight exists…because it happened for them.
love reality tv dating findinglove reality tv The Bachelorette
Hi! My name is Rachel. I love to write. Write about life, love, and reflect on how the past builds the future. Mostly, I love to tell stories because I believe there is something about stories that brings the world closer together. You can check out some of my writing reflections here at Rachel Writes.